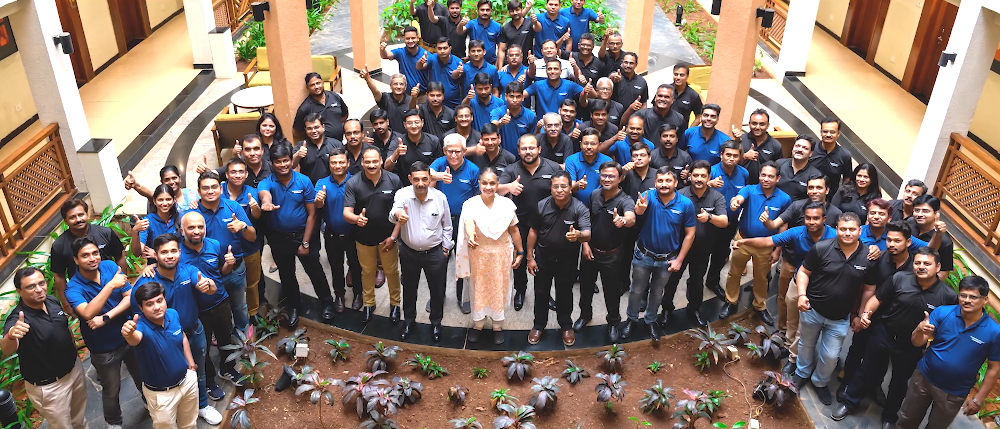 Last month Xavier Mesrobian and Michael Quartarone from Skkynet took a trip to India to visit our Sales Partner, Masibus Automation and Instrumentation Pvt. Ltd., and meet with some of their key clients in Ahmedabad and Mumbai.  Masibus is one of the top automation companies in India, representing major hardware and software brands like Schneider Electric and AVEVA, as well as designing and producing electronics for automation, security, and industrial use.  They are active in most industrial verticals, and have a network of dealers and system integrators across India and reaching the Middle East.
Masibus has been a distributor for Cogent and Skkynet products and services since 2013.  The purpose of this visit was to strengthen ties of friendship and cooperation, and explore new business opportunities together.  Both Skkynet and Masibus are keen to implement Industrial IoT applications in India, focusing on current opportunities in manufacturing, energy, and wastewater management.
"India's economy is growing and changing in so many ways and to the benefit of her people," said Xavier Mesrobian, Skkynet's VP of Sales and Marketing.  "So the opportunity to travel there and meet with Masibus and some of their customers was one we were looking forward to."
"Having Skkynet spend time with us and visit with customers was a tremendous opportunity to build relationships and expand the presence of the Skkynet brand," said Dominic Cordeiro, Technical Director for Masibus.  "Customers were very interested in the technology and could recognize the benefits in supporting their project requirements."
The visit started off with an overview of the Masibus company organization, and a training session on Skkynet software and services for the Masibus sales and technical teams.  Following that were in-depth discussions on how to best meet the needs of Masibus customers by employing Skkynet technologies.
Then most of the time was spent visiting customer sites in Ahmedabad and Mumbai, meeting with management and engineering teams, and discussing how Masibus can best address their requirements using Skkynet software and services.
"We were impressed with the Masibus team in terms of their enthusiasm, knowledge and commitment to growing the business for the DataHub," said Michael Quartarone, Director of Channel Sales for Skkynet.  "Having lived my entire life in the Toronto area, arriving in India was quite a cultural shock.  Travelling there on business and not as a tourist gave me a unique perspective on the people and how they live and work.  I was so intrigued by their culture; people are friendly and happy―and despite the chaotic traffic―it all works surprisingly well."
https://skkynet.com/media/Blog-MasibusGroup.jpg
429
1000
Bob McIlvride
https://skkynet.com/media/skkynet-logo.svg
Bob McIlvride
2019-12-11 08:00:24
2019-12-10 16:08:21
Skkynet Travels to India